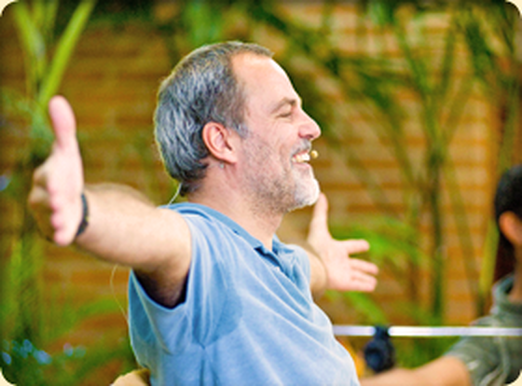 Silent, Residential Retreat
6 days with Master Teacher
Florian Schlosser
in 2018 Who is Florian?
In April 2000 there awoke in Florian the timeless recognition of being consciousness as the only reality.
It was the fundamental realization that there are not "inside" and
"outside" worlds which exist separately from each other.
Florian describes it this way:
"In waking up to the reality of now, there is synchronicity. The wakefulness of your true being penetrates every layer of the
personality in each moment. Then there is only one. It is not truth versus personality. It is one.
The personality then functions in a different way; things come to peace that have not been at peace before,
and the truth that was caged is set free like a flying bird. "
During the course of the following 12 years, there began a profound integration of that ultimate shift in consciousness
into the body, accompanied by an ongoing transformation of the entire nervous and cellular system.
In his widely-appreciated, unique approach Florian invites people around the world to include all aspects of human life,
and finally to be a mature and integrated embodiment of consciousness in daily life.
Dates:
Tuesday May 29th 2018 thru sunday June 3rd, 2018
Meeting Times:
We begin with a session on Tuesday evening, 2 sessions on Wednesday thru Saturday,
10 to Noon for morning sessions, lunch and rest, 4 to 6 for the afternoon sessions
and 1 last session on Sunday morning before we leave for a total of 10 sessions.
* Please note that we do speak during the group sessions!
Private sessions are available with Florian in between lunch and dinner hours.
Location:
Burrows Retreat House at Alta Mons in Shawsville, VA
Fees for the full retreat including room and board are: Single Room with sheets is: $1,245.00Single Room, bring your own sheets is: $1,195.00Double Room with sheets is: $1,085.00Double room bring your own sheets is: $1,060.00Camping is: $845.00
For sign up and questions please contact Anna Pittman atamulya@thebreathingspace.org or
540 239 1233
Transparency Live & Online
Circle work is a powerful way to evolve, connect and heal!!
The Transparency program is a group experience that allows you to claim your space,
discover worthiness, peace and presence - together.
We will learn a dialogue process that enables you to feel connected and engage with present moment awareness,
without blame or judgment, about the very things that often create a disconnect.
We will also learn how to listen to the body before asking for needs, as well as the role of longing,
and how to validate, reassure and acknowledge from your heart.
Dates for the Live Transparency Class:
Wednesday evenings from 6 to 7:30 p.m at
The Breathing Space
.:
Dates:
September 13, 20, October 4, 11, 18, 25, November 1, 8, 15, 29, December 6
Fee: $300.00
Dates for the Online Transparency Class:
Tuesday evenings from 7:45 - 9:15 p.m.
Dates:
September 12, 19 26, October 10, 17, 24, November 7, 14, 28, December 5, 12
Fee:
$300.00
Zoom ID information:
Join from PC, Mac, Linux, iOS or Android: https://zoom.us/j/624362456
RSVP:


amulya@thebreathingspace.org


---
Chakras Journey
Live & Online
Chakras Journey is a group program offered in
11 sessions. Each session is designed to offer you
greater awarenesss with self, others, and Source!
Chakras can be seen as bioenergy centers that regulate
how we store
information in the body/mind. Each
center offers an
opportunity to expand our consciousness for
greater embodiment.
We live in a world where we have learned how to
discipline our body
to hold perception in a familiar way without really i
nvestigating its potential.
The goal of this class is to realize your
greater potential to relax, expand,
engage, and connect. If you are human,
this is valuable!!

7 Chakras, 7 Centers of Consciousness:
Trust, Joy, Esteem, Unconditional Love, Truth, Wisdom and Unity
Dates:
Thursdays from 6 to 7:30 p.m.: Sept. 7, 14, 21, Oct. 5, 12, 19, Nov. 2, 9, 16, 30, and Dec. 7
Fee:
$165.00
Advance registration preferred by Sept. 1.
ZOOM
: Join from PC, Mac, Linux, iOS or Android: https://zoom.us/j/
908249940
Or iPhone one-tap :
US: +14086380968,,908249940# or +16468769923,,908249940#
Or Telephone:
Dial(for higher quality, dial a number based on your current location):
US: +1 408 638 0968 or +1 646 876 9923 or +1 669 900 6833

Radiant Heart

Join us once a week for 7 weeks to learn about the goal of Yoga and the
radiant heart. We will explore how this powerful presence can be integrated
into everyday life and relationships thru meditation, attunement and inquiry.

We will meet at In Balance on Thursday mornings from 10:30 to 11:45 a.m.
Dates: September 14, 21, 29, October 5, 12, 19 and 26
Fee: $90.00
Please RSVP with Anna
amulya@thebreathingspace.org or 540 239 1233